Spencer Schneider has found skateboarding to be an important part of his life helping him stay active, challenge himself, and even support his local community through skateboarding charities and nonprofit organizations.
Spencer Schneider has always been an active individual with a love for sports. Throughout his childhood and into his adult life he has enjoyed sports like rugby, boxing, surfing, snowboarding, and skateboarding. These activities were a great way for Spencer to stay active and have fun with friends while also challenging himself to improve on different skill sets.  
As with cooking, he discovered he could take one of his personal hobbies and turn it into a resource to contribute to the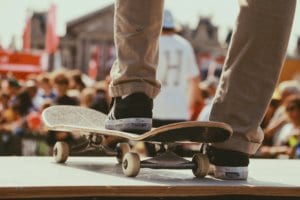 greater good.
As he got older, Spencer Schneider began to realize that skateboarding was a sort of lifestyle that had a unique culture and welcoming community behind it. He realized this community could provide huge benefits to kids and other individuals in need of something that could get them through tough times or simply a place to fit in and make friends.
With this in mind, Spencer Schneider connected with various skateboarding charities and nonprofit organizations to help make a difference in his local community and communities all across the globe. Some of his favorite skateboarding charities include: Skate For Change, Tony Hawk Foundation, and Chill.Org
Skate For Change
Skate For Change is all about bringing those often deemed as "misfits" together in order to create positive change in their communities. Their projects include things like:
Handing out socks, water, and coffee

Cleaning up local parks

Creating skate videos to benefit a local cause

Volunteering at a nonprofit

Starting awareness campaigns in schools and communities
Tony Hawk Foundation
Established by skateboard legend Tony Hawk in 2002, the Tony Hawk Foundation has worked with hundreds of towns, municipalities, and low-income communities to put together plans to build clean and safe public skateparks that allow children to benefit from active lifestyles. These parks are meant to build a stronger community and provide a place for children to spend time with friends, exercise, and develop greater confidence and self-esteem.
Chill.org
Chill.org, also known as the Chill Foundation, offers year-round programs for surfing, skating, snowboarding, and other related sports to underserved youth in low-income communities. Kids between the ages of 10 and 18 years old have the opportunity to join these youth development programs as a way to build self-esteem and essential life skills while learning about snowboarding, skateboarding, and other board sports.